About us
In 1997, Collage Arts (formerly Haringey Arts Council) working in partnership with Haringey Council, community groups, The Metropolitan Police and local stakeholders, launched a community festival event in the heart of the Tottenham area. Taking place at Bruce Castle Park, the event proved to be an exciting new addition to the Borough calendar of leisure activities.
In 2000, to celebrate the Millennium, the plan to revise the spirit of Carnival was realised. This addition has proved to be a huge success, with estimated audiences for both events totalling over 50,000. The festival celebrated its 10th birthday in 2007. We, as a committee are committed to keeping the tradition alive for many years to come. This cannot be possible without the support of local business.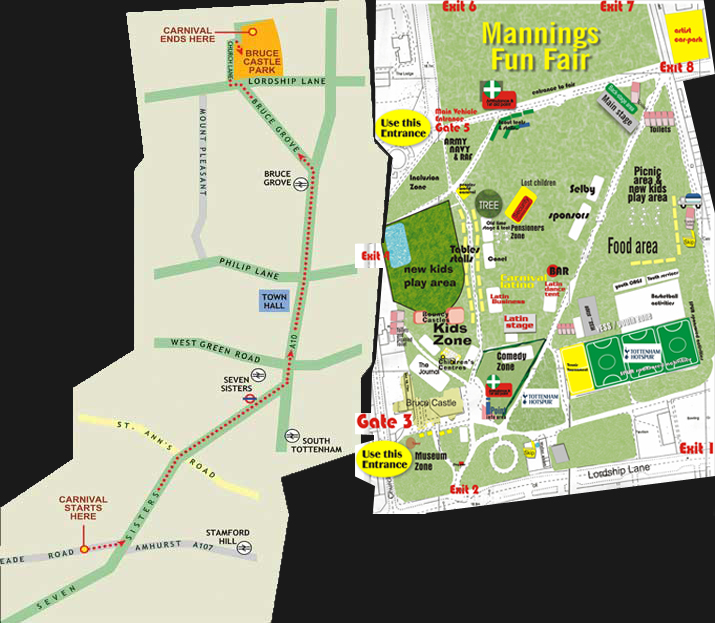 The Carnival procession starts at 11am from Eade Road N4, continues through the heart of Tottenham down Seven Sisters Road, Tottenham High Road and then up Bruce Grove finally finishing the 2 mile parade at Bruce castle park at 1pm.
The stages fire up at 12pm with fun packed entertainment and great headline acts for all ages, check out the food zone and taste the foods of many different cultures. Take some Salsa dancing lessons in the Latin zone, we have a fun packed area in the Kids Zone and not forgetting the Mannings Fun Fair.
2012 Committee Members
| | |
| --- | --- |
| Patron | Daniel Levy - Tottenham Hotspur Football Club |
| | |
| --- | --- |
| President: | David Lammy MP |
| Vice President: | Joanne McCartney AM |
| Chair: | Nicky Price |
| Vice Chair: | Domani Pieris |
| Secretary: | Suzanne Johnston |
| Treasurer: | Yianna McIntosh |
Event Manager

Annie Whyte (Annie Whyte Events)

Assisted by Caz Kennedy

Design Team:
Kevin Sukhdeo & Robert Knight (Fine as Design)
Advertising Sales/Sponsors
Nicky Price
DPS
Nicky Price
Fundraising / Sponsorship
Nicky Price
Marketing
Maria Akore
Press & Publicity
Domani Pieris
Official Photographer
Romesh Pieris
Faith Area Co-ordinator:
Latin Area Co-ordinator:
Mauricio Duvan, Juiette Berkeley
Youth Zone Co-ordinator:
Courtney Brown
Kids Zone Co-ordinator:
Lizzie Boyle
Parade Co-ordinator:
Maria Jospeh
Stalls Marshalls:
Berkeley Gardiner, Bill Guy
Parade Marshalls:
Bill Guy, Berkeley Gardiner
Food & Beverage Stalls Co-ordinator:
Hesketh Benoit
Inclusion Zone Co-ordinator:

Frank Hutson, Louise Wallis

Deaf Unlimited - Domani Pieris, Paul Cripps

Older Peoples Zone Co-ordinator:
Marva Gabbidon
Park Gate Marshall:
Bob Fickling
Assistant Marshalls:
Sheila Peacock
Information:
Ruby Nobleman